Delicate Danish Butter Cookies
By
Deen Brothers
JUMP TO RECIPE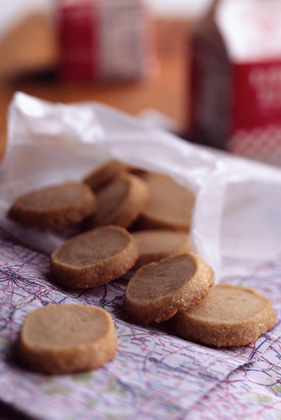 Featured in:
The Deen Bros. Recipes from the Road
Difficulty: Easy
Prep time: 75 minutes
Cook time: 12 minutes
Servings: 42 cookies
Ingredients
1 cup (2 sticks) unsalted butter
3/4 cup light brown sugar, packed
1 egg yolk
1/2 teaspoon lemon zest, finely grated
2 cups all-purpose flour
1/4 teaspoon salt
1/4 cup turbinado raw sugar
Directions
Cream the butter. Add the brown sugar; beat until fluffy. Beat in egg yolk and lemon zest. Add flour and salt; mix until just combined. Roll the dough into a log about 1 1/2 inches in diameter (chill dough, if needed, for easier handling). Roll the log in the turbinado sugar. Wrap the log in plastic wrap and chill for 1 hour.
Preheat oven to 350°F. Slice dough log into 3/8-inch-thick rounds; place the rounds on 2 large baking sheets. Bake for 10 to 12 minutes or until light brown. Transfer cookies to a wire rack to cool.