Guilt-Free Veggie Bean Burger
By
Paula Deen
JUMP TO RECIPE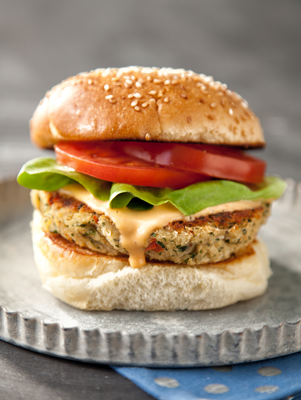 Difficulty: Medium
Prep time: 15 minutes
Cook time: 15 minutes
Servings: 15
Ingredients
3 tablespoons divided olive oil
1/4 cup finely chopped red onion
1/2 cup finely chopped red bell pepper
1 cup tough center stems removed, finely chopped kale
2 cloves finely chopped garlic
1 teaspoon smoked paprika
2 (15 oz) cans drained and rinsed white beans
3/4 cup panko breadcrumbs
1 large lightly beaten egg
6 toasted, for serving hamburger buns
Directions
Heat 2 tablespoons olive oil in a medium skillet over medium high heat. Once hot, add the onion and bell pepper and sauté until the onion is tender, about 3 minutes. Add the kale and cook, while stirring, until softened, another 3 minutes. Add the garlic and cook for 1 minute, until fragrant. Sprinkle with the smoked paprika, give a stir, and season with salt and pepper. Remove from heat.
Add the cooked veggie mixture to a food processor along with the rinsed white beans. Pulse the mixture about 6 times, until it's chunky. Remove to a bowl and add the breadcrumbs and the egg. Stir all together and give another little season of salt and pepper. (If you don't have a food processor, you can mash with a potato masher.)
Form the bean mixture into 6 equal sized patties. Place in the fridge for 30 minutes to set up.
Heat the remaining tablespoon of oil in a large non-stick skillet over medium high heat. Cook the burger on each side for 3-4 minutes, until golden and crisp on the outside. Serve the burger between a nice toasted bun topped with lettuce and tomato.
Toppings ideas: Lettuce and tomato, ketchup, mustard, mayo (or any other topping you may desire!)
Kitchen Notes:
Feel free to swap the white beans with any cooked beans you may have on hand. We've had good results with black beans, chickpeas, pinto beans, and kidney beans. If you don't like kale, give chopped spinach or collard greens a try. No smoked paprika? Chili powder will also pack a little punch of flavor. Use this recipe as a guide to create your own special vegetable burger.
We've had the best results pan frying the burgers in a non-stick skillet since they're so delicate. We do not recommend grilling them.