Guilt Free Bread Pudding
By
Paula Deen
JUMP TO RECIPE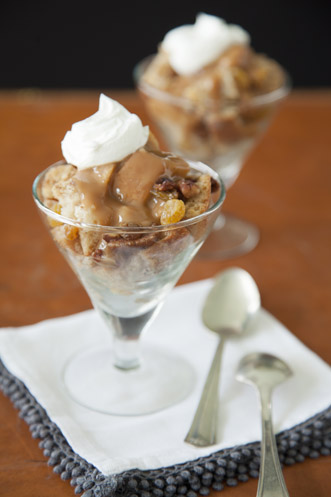 Difficulty: Easy
Prep time: 15 minutes
Cook time: 15 minutes
Servings: 15
Ingredients
3 cups low fat milk
3 large plus 3 egg whites eggs
1/3 cup stevia baking blend
1 tablespoons vanilla extract
2 teaspoons cinnamon
1 (22 oz) loaf Italian bread
1 cup chopped pecans
1/2 cup golden raisins
sugar free caramel sauce
sugar free whipped topping
Directions
Heat oven to 350 °F.
Beat the milk, eggs, egg whites, stevia, vanilla and cinnamon together in a medium bowl.
Add bread, pecans, and raisins to a 1 ½ quart baking dish. Pour milk mixture over the bread. Press the bread down with your hands, cover with plastic wrap, and refrigerate for 1 hour. Bake for 50 minutes, or until golden and puffed.