The Best Homemade Applesauce
By
Jamie Deen
JUMP TO RECIPE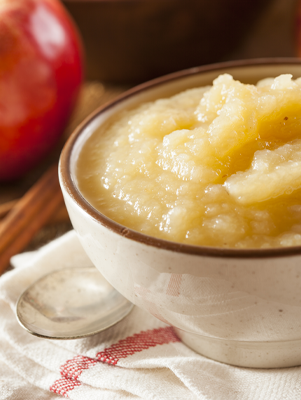 Featured in:
Jamie Deen's Good Food
Difficulty: Easy
Prep time: 10 minutes
Cook time: 25 minutes
Servings: Makes 1 quart
Ingredients
6 large apples, peeled, cored, and cut into chunks (I use a mix of Honeycrisp and Granny Smith)
1 cup apple juice or cider
1 cup water
2 cinnamon sticks
¼ teaspoon ground cinnamon
2 tablespoons plus 1 teaspoon granulated sugar
2 tablespoons light brown sugar
⅛ teaspoon Kosher salt
dash of freshly grated nutmeg
Directions
In a large saucepan, combine the apples, juice, water, cinnamon sticks, cinnamon, both sugars, salt, and nutmeg. Bring to a boil over medium heat, then reduce the heat, cover with a lid, and simmer gently for 25 minutes, stirring on occasion, until the apples are extremely soft.
Remove the cinnamon sticks and discard. If you prefer a real smooth applesauce, you can add the apples and liquid to a blender or food processor and blend until it's the consistency you like best.
Store the applesauce, covered, in your refrigerator for up to 5 days. Beyond that, you'll want to freeze it.
Ingredient Notes: You can experiment with the kinds of apples you use, making it milder or more tart. Just make sure you use really crisp apples; nothing mealy will do.
Want more bang for your buck? Add berries. Adding ¾ cup blueberries to the simmering apples make this an apple-blueberry sauce.