Sweet Potato Coins with Creamy Honey Drizzle
By
Deen Brothers
JUMP TO RECIPE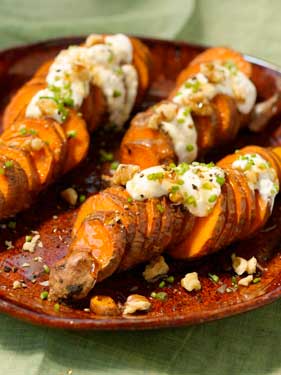 Featured in:
The Deen Bros. Get Fired Up
Difficulty: Easy
Servings: 4
Ingredients
4 small sweet potatoes
8 tablespoons 1 stick unsalted butter
Salt and freshly ground black pepper
1 1/2 tablespoons honey
1/4 cup sour cream
1/4 cup walnuts
1 1/2 tablespoons finely chopped fresh chives
Directions
Cut the potatoes crosswise into 1/4-inch-thick slices. Keeping the coins together in the shape of a potato, transfer each potato to a sheet of aluminum foil. Dot the potatoes with butter cubes and season with salt and pepper. Wrap the foil tightly around the potatoes.
Preheat the grill to medium-high heat.
Place the potato packets on the grill. Close the cover and cook until the potatoes are fork tender, 15 to 20 minutes.
Place the potatoes on serving plates and pull back the foil. Drizzle the potatoes with the honey and top each with a dollop of sour cream. Sprinkle with walnuts and chives and serve.