Super-Simple Lemon Chicken and Rice Soup
By
Jamie Deen
JUMP TO RECIPE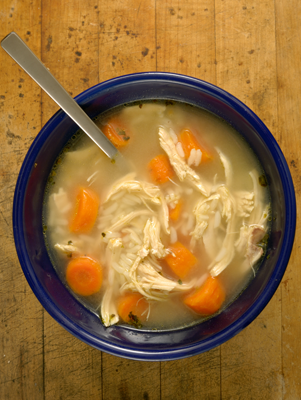 Featured in:
Jamie Deen's Good Food
Difficulty: Easy
Prep time: 10 minutes
Cook time: 30 minutes
Servings: 8
Ingredients
2 tablespoons olive oil
1 medium onion, finely chopped
2 large carrots, peeled and cut into half moons
Kosher salt
freshly ground black pepper
1 quart homemade chicken stock
2 cups water
juice of 2 lemons (about ½ cup)
½ cup long-grain rice
1 bay leaf
2 cups chopped leftover cooked chicken
2 tablespoons chopped fresh parsley
Directions
Heat the oil in a large soup pot over medium-high heat. Once it's hot, add the onion and carrots and sauté until tender, about 4 minutes. Season with salt and pepper and our in the stock, water, and lemon juice. Bring it all to a boil, then stir in the rice, add the bay leaf, and knock down the heat to a simmer.
Cook for 20 minutes, until the rice and carrots are tender. Stir in the chicken and cook for just a few minutes longer, until the chicken is heated through.
Sprinkle in the parsley and give a taste for seasoning, adding salt and pepper if it needs it. Remove the bay leaf before serving.