Sun-Dried Tomato and Basil Quick Bread
By
Paula Deen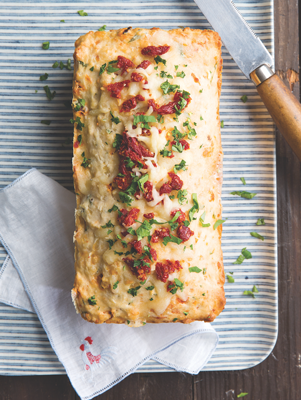 Prep time:

15 minutes

Cook time: 35 minutes
Servings: 8
Ingredients
3 cups all-purpose flour
2 tablespoons sugar
2½ teaspoons baking powder
½ teaspoon kosher salt
½ cup whole milk
⅓ cup unsalted butter, melted
1 large egg, room temperature
1 cup shredded extra-sharp white Cheddar cheese, divided
5 tablespoons chopped oil-packed sun-dried tomatoes, drained well and divided
4 tablespoons fresh basil, chopped
Directions
Preheat oven to 350°. Spray an 8½x4½-inch loaf pan with cooking spray.
In a large bowl, whisk together flour, sugar, baking powder, and salt. In a medium bowl, whisk together milk, melted butter, and egg. Add milk mixture to flour mixture, stirring just until dry ingredients are moistened. Fold in ¾ cup cheese, 4 tablespoons tomatoes, and 3 tablespoons basil. Spread batter into prepared pan, and top with remaining ¼ cup cheese and remaining 1 tablespoon tomatoes.
Bake until a wooden pick inserted in center comes out clean, about 35 minutes. Sprinkle with remaining 1 tablespoon basil, and let cool in pan on a wire rack for 10 minutes. Serve warm.