Fresh Summer Tomato Salad
By
Paula Deen
JUMP TO RECIPE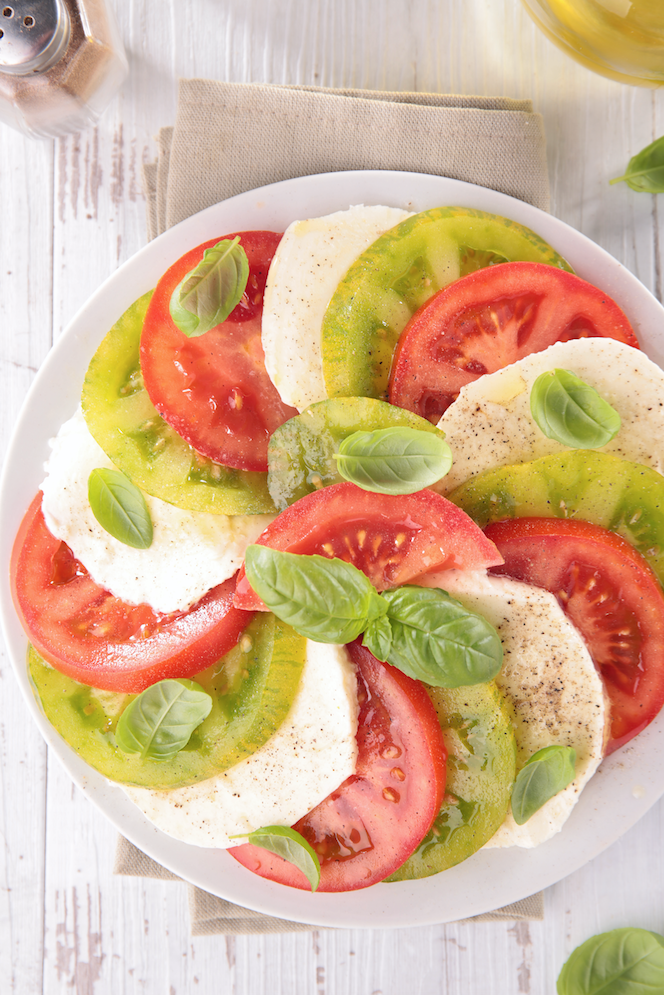 Difficulty: Easy
Prep time: 13 minutes
Cook time: 13 minutes
Servings: 13
Ingredients
3 large multi-colored washed and dried heirloom tomatoes
1 lb (water packed) (or mozzarella di bufala if you're lucky) fresh mozzarella cheese
1 1/4 cups washed and dried and divided fresh basil leaves
1/2 cup extra virgin olive oil
kosher salt
freshly ground black pepper
Directions
For the salad:
Slice the tomatoes and mozzarella into 1/2 inch thick slices. Generously season with salt on both sides. Taste a tiny bit of mozzarella to see if it needs salt (salt can vary on fresh mozzarella). Season if need be. Arrange the tomatoes and mozzarella in a concentric pattern, overlapping and layering each. Tuck the basil leaves in between the layers. Drizzle with the basil oil and season again with salt and pepper.
The freshest mozzarella and most beautiful sun ripened tomatoes along with a hearty helping of salt are the keys to this simple recipe.
For the basil oil:
Blanch the basil leaves in a pot of salted boiling water for approximately 10 seconds. Remove with a spider and plunge into a bowl of ice water to stop the cooking. Once cool, remove and pat dry with paper towels. Add the basil leaves and oil to a blender and blend until smooth. Add a small pinch of salt and a few quick grinds of your peppermill. Pour into a small airtight container and refrigerate until ready to use. Can be made up to 2 days ahead.