Stuffed Turkey Breast
By
Paula Deen
JUMP TO RECIPE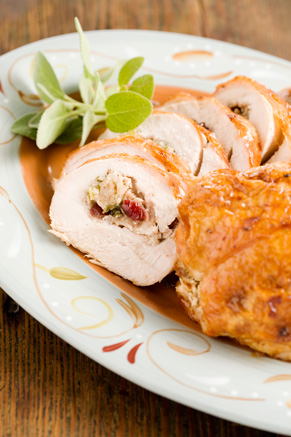 Difficulty: Medium
Prep time: 15 minutes
Cook time: 15 minutes
Servings: 15
Ingredients
2 tablespoons butter
1 diced medium onion
1 stalk diced celery
2 cloves minced garlic
1 tablespoon chopped, plus more for garnish fresh sage
1 tablespoon chopped, plus more for garnish fresh thyme
2 cups cubed and dried cornbread
1/2 cup chopped toasted pecans
1/3 cup dried cranberries
1/2 cup chicken broth
1 (about 3 lbs) boneless turkey breast half
2 tablespoons canola oil
Directions
Preheat oven to 400 °F.
Heat 2 tablespoons canola oil in a large skillet over medium heat. Once hot, add onions and celery and sauté until soft and translucent. Add garlic and garlic and cook for an additional 2 minutes, until fragrant. Add the fresh herbs, cornbread, pecans, cranberries and chicken broth, stirring well with a wooden spoon to fully incorporate. Let flavors marry together and warm on the stovetop for 2-3 minutes. Season stuffing with salt and freshly ground pepper. Remove from heat and let chill slightly.
Carefully remove the skin from the breast of the turkey, being careful not to tear. Place turkey breast, skin side up on a cutting board. Holding a knife parallel to work surface, slice through the breast, almost in half, without cutting it all the way through. Open the breast like a book.
Lay the turkey between two sheets of plastic wrap and pound out using a meat mallet, to an even thickness, about 1/2 to 3/4 inch thick. Remove turkey from plastic wrap, season with salt and pepper, and spread stuffing evenly across the turkey breast, leaving a 3/4 inch border all around the edges.
Roll the turkey breast over the stuffing, creating a uniform log. Do not roll too tight or the stuffing will fall out. Wrap the skin around the breast, hiding the seam of the log. Use kitchen twine to tie and secure the shape, while keeping the stuffing intact. Season the outside of the turkey with salt and pepper.
Roast until a thermometer inserted to the stuffing registers 155 °F, about 45 minutes. Remove from oven and let rest, tented with foil, for 15 minutes. The temperature should reach 165 °F after resting. Trim kitchen twine and slice. Garnish with fresh herbs.