The Deen Bros. Lighter Stuffed Turkey Breast
By
Deen Brothers
JUMP TO RECIPE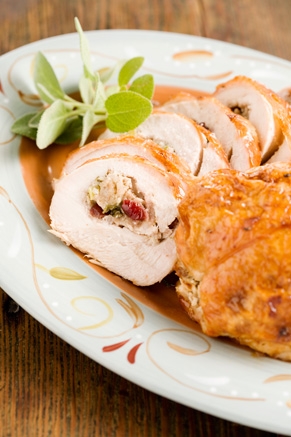 Difficulty: Easy
Ingredients
1 tablespoon plus 1/2 teaspoon canola oil
1/2 pound shiitake mushrooms
1 onion
2 celery stalks
1 Granny Smith apple
1 tablespoon chopped fresh sage
2 teaspoons chopped fresh thyme
1 teaspoon salt
1 cup crumbled cornbread
1/2 cup dried cranberries
3/4 cup reduced-sodium chicken broth
1/4 cup toasted pecans
1 tablespoon melted butter
1 3-pound boneless turkey breast half
1 teaspoon fennel seeds
1/2 teaspoon pepper
Directions
Preheat the oven to 400°F. Spray a small roasting pan with nonstick spray.
To make the filling, heat 1 tablespoon of the oil in large nonstick skillet over medium-high heat. Add the mushrooms, onion, and celery, and cook, stirring occasionally, until softened, about 5 minutes. Add the apple, sage, thyme, and 1/2 teaspoon salt. Cook, stirring occasionally, until tender, 5 minutes. Remove from the heat. Stir in the cornbread, cranberries, 1/4 cup of the broth, pecans, and butter until well mixed. Let cool 10 minutes.
Meanwhile, place the turkey breast, skin-side down, on a cutting board. Holding a sharp knife parallel to the board and starting at one long side, cut three quarters of the way through and open up turkey like a book. Place the turkey, skin-side down, between 2 sheets of plastic wrap. With a rolling pin or meat mallet, pound the turkey to a 10 x 15-inch rectangle. Remove and discard the plastic wrap. Spread the mushroom mixture onto the turkey, leaving a 3/4-inch border. From one short side, roll up the turkey jelly-roll fashion. Do not roll too tightly or the filling will slip out of the ends. Tie the rolled turkey at 2-inch intervals with kitchen string. Place, skin-side up, into the roasting pan.
Combine the fennel seeds, the remaining 1/2 teaspoon oil, remaining 1/2 teaspoon salt, and the pepper in a small bowl. Rub the spice mixture all over the top of the turkey. Pour the remaining 1/2 cup of broth around the turkey. Roast, uncovered, until an instant-read thermometer inserted in the center of the roast registers 155°F, about 1 hour and 10 minutes. Transfer the roast to a cutting board. Cover loosely with foil and let rest 15 minutes. Remove the string before slicing. Arrange the slices on a platter. Spoon the pan juices over and serve at once.