Stir-Fried Chicken with Green Beans and Cashews
By
Deen Brothers
JUMP TO RECIPE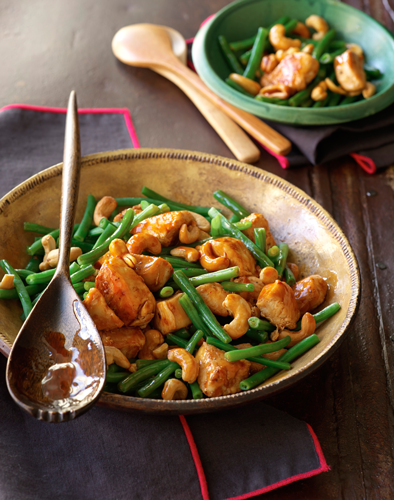 Featured in:
Bobby Deen's Everyday Eats
Difficulty: Easy
Servings: 4
Ingredients
1/2 pound green beans
2 tablespoons low-sodium soy sauce
1 tablespoon low-sodium chicken broth
1 teaspoon rice vinegar
1 teaspoon cornstarch
1/2 teaspoon Sriracha
1 tablespoon peanut
2 tablespoons chopped fresh ginger
2 garlic clove s
1 pound boneless
1/3 cup roasted
Directions
1. Bring a medium pot of salted water to a boil over high heat. Add the green beans and cook for 2 minutes, until crisp-tender. Drain and run under cold water to cool down, then drain again.
2. In a small bowl, combine the soy sauce, broth, vinegar, cornstarch, and Sriracha and stir until the cornstarch has dissolved.
3. In a wok or a large skillet, heat the oil over high heat. Add the ginger and garlic and cook, stirring constantly, for 10 seconds. Add the chicken and cook, stirring constantly, until no trace of pink remains on the surface. Add the green beans and the soy sauce mixture and cook,stirring constantly, until the chicken is cooked through, about 2 minutes. Stir in the cashews and serve.