Southwestern Corn and Black Bean Salad
By
Paula Deen
JUMP TO RECIPE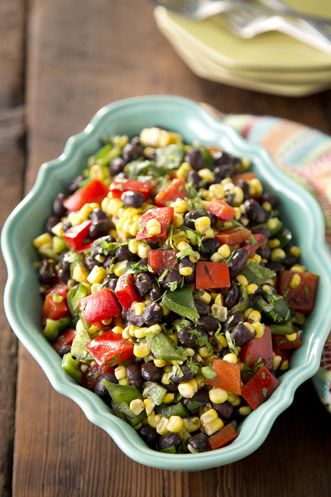 Difficulty: Easy
Prep time: 10 minutes
Cook time: 10 minutes
Servings: 10
Ingredients
4 shucked ears fresh corn
1 quartered and seeded red bell pepper
1 halved and seeded poblano pepper
1 (15.5 oz) can drained and rinsed seasoned black beans
2 tablespoons chopped fresh cilantro
5 tablespoons lime juice
1/2 teaspoon ground chipotle chile powder
1/2 teaspoon ground cumin
2 tablespoons olive oil
Directions
Spray a grill rack with the cooking spray. Preheat the grill to medium-high heat, 350 °F to 400 °F.
Grill the corn until tender, about 5 minutes per side. Grill the bell and poblano peppers until blackened slightly and tender, 3 to 4 minutes per side. Set aside to cool. Cut the kernels from the corn cobs and chop the peppers.
In a large bowl, place the beans and cilantro. In a separate bowl, whisk together the lime juice, chipotle chile powder, cumin and olive oil. Stir in the corn kernels and chopped peppers, tossing to coat with the dressing. Cover and chill until ready to serve.