Southern-Style Coconut Cake
By
Deen Brothers
JUMP TO RECIPE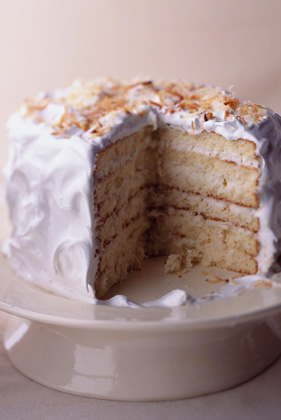 Featured in:
The Deen Bros. Recipes from the Road
Difficulty: Easy
Servings: 12 to 16
Ingredients
1 (18 1/4-ounce) package vanilla cake mix
1 1/3 cups milk
1 cup heavy cream
2 cups sour cream
2 cups powdered sugar
1 teaspoon vanilla
3 cups shredded sweetened coconut
1 1/2 cups granulated sugar
2 egg whites
1/3 cup cold water
2 teaspoons light corn syrup
Pinch salt
1 teaspoon vanilla
Shredded fresh coconut
Directions
Preheat oven to 350F. Prepare the cake mix according to package directions, substituting the milk for water. Divide cake batter among three greased 9-inch round cake pans. Bake for 20 to 25 minutes or until golden. Let cool in pans for 10 minutes. Remove cakes from pans; cool completely on a wire rack.
While the cakes cool, prepare the filling. Whip the heavy cream until stiff peaks form (tips stand straight). Fold in the sour cream, then gradually fold in the powdered sugar. Stir in the vanilla. Fold in the sweetened coconut.
Using a serrated knife, split each cake in half horizontally. Spread the fi lling over the layers, stacking all the layers. Place the cake in an airtight container or cover tightly with plastic wrap. Refrigerate overnight or up to three days before frosting.
When you are ready to frost the cake, make the frosting. In the top of a double boiler or in a metal bowl, combine the granulated sugar, egg whites, water, corn syrup, and salt; beat for 1 minute with an electric hand mixer. Place the pot or bowl over (not in) a pot of boiling water. Cook, beating constantly with mixer, about 7 minutes or until the frosting becomes fl uffy and stiff peaks form (tips stand straight). Remove the pot from the boiling water. Add the vanilla; continue beating for 1 to 2 minutes more or until barely warm. Frost the top and sides of the cake. Sprinkle the cake with additional coconut.