Southern-Style Corned Beef and Cabbage
By
Deen Brothers
JUMP TO RECIPE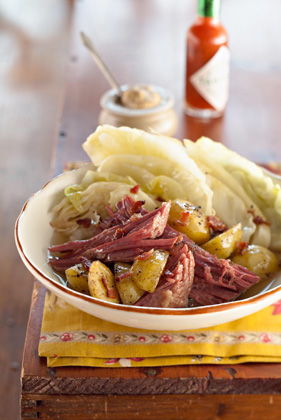 Featured in:
The Deen Bros. Y'all Come Eat
Difficulty: Easy
Servings: 8
Ingredients
1 4-pound corned beef brisket
3 clove s garlic
2 bay leaves
1/2 teaspoon bottled hot pepper sauce
4 slices bacon
1 head green cabbage
4 (1 1/2 pounds) potatoes
Mustard
Directions
Rinse the corned beef under cold running water and place in a large pot or Dutch oven. Add the garlic, bay leaves, hot sauce, and enough water to cover. Bring to a boil. Reduce heat, cover, and simmer about 4 hours or until beef is tender.
Meanwhile, in a large skillet, cook the bacon over medium heat until crisp. Transfer the bacon to a paper towel-lined plate to drain, retaining the fat in the skillet. Add the cabbage wedges and potatoes in batches; cook over medium-high heat until brown but not tender.
When the beef is very tender, transfer it to a warm serving platter and cover with aluminum foil, retaining the cooking liquid. Add the potatoes to the simmering liquid; cover and simmer about 15 minutes or until they begin to soften. Add the cabbage; simmer about 15 minutes more or until potatoes are easily pierced with a fork. Discard bay leaves. Using tongs or a slotted spoon, transfer the vegetables to the serving platter and crumble the bacon over all. Serve with mustard.