Southern Collards With Cornmeal Dumplings
By
Paula Deen
JUMP TO RECIPE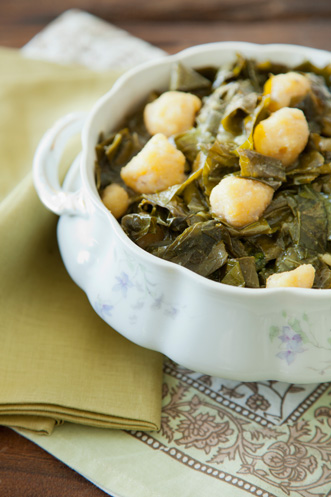 Difficulty: Easy
Prep time: 10 minutes
Cook time: 10 minutes
Servings: 10
Ingredients
1 to 1 1/2 pounds or necks smoked turkey wings
2 quarts or water chicken broth
1 teaspoon such as Paula Deen Hot Sauce hot sauce
1 teaspoon Paula Deen's House Seasoning
1 lb bunch center ribs removed, leaves cut into 1/2-inch strips collard greens
4 tablespoons butter
1 1/2 cups cornmeal
1 cup all purpose flour
1 small minced onion
1/2 teaspoon salt
1/4 teaspoon black pepper
Directions
For the collards: In a large pot, combine the turkey wings, broth, hot sauce (add more if you desire) and House Seasoning; simmer for 20 minutes. Add the collards and cook, stirring occasionally, until they are tender, about 20 minutes more. Stir in the butter. Using a slotted spoon or tongs, remove the turkey wings and discard. Transfer the collards to individual serving bowls, cover them with foil and keep warm. Reserve 1/2 cup of the liquid for the dumplings and reserve the rest of the cooking liquid in the pot.
For the dumplings: Combine the cornmeal, flour, onions, salt and pepper in a bowl. Stir in the 1/2 cup reserved collard liquid into the dry ingredients until just combined to form a thick batter.
Bring the collard broth back up to a boil and drop the dumpling batter into it, 1 teaspoon at a time. Simmer until cooked through, 20 to 25 minutes. Cook's Note: Do not use a spoon to stir. Gently shake the pot back and forth. Using a spoon will tear the dumplings apart.
Transfer the dumplings to the bowls of collards. Spoon some of the broth over the collards and dumplings and serve hot.