Southern Cheesecake With Praline Sauce
By
Paula Deen
JUMP TO RECIPE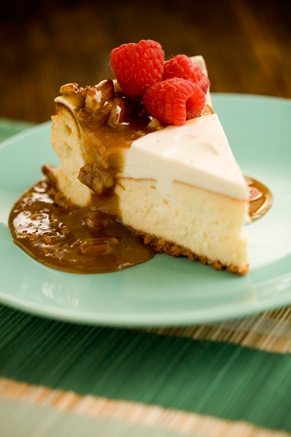 Try this southern cheesecake recipe with praline sauce for your next special occasion!
Try this southern cheesecake recipe with praline sauce for your next special occasion!
Difficulty: Medium
Prep time: 5 hours 10 minutes
Cook time: 1 hour 10 minutes
Servings: 10-12
Ingredients
1 1/2 cups graham cracker crumbs
1/2 stick melted butter
5 eggs
1 1/2 cups sour cream
1 cup plus 8 tablespoons divided granulated sugar
3 (8 oz) packages at room temperature cream cheese
2 tablespoons light brown sugar
2 tablespoons cornstarch
1 cup dark corn syrup
1/2 cup chopped pecans
1 tablespoon plus 2 teaspoons vanilla extract
Directions
Preheat the oven to 350 °F. For the crust, stir together the graham cracker crumbs, 4 tablespoons sugar, and 1/2 stick butter. Pat this mixture into the bottom and sides of a 9-inch spring form pan.
Make the filling:
In a large bowl, beat together the cream cheese and 1 cup granulated sugar. Beat in the eggs, one at a time, and then beat in 1 tablespoon vanilla. Pour the filling into the crust and bake for 1 hour. Remove the cake from the oven and cool for 10 minutes.
Meanwhile, make the topping:
In a bowl, mix the sour cream, 4 tablespoons sugar, and 1 teaspoon vanilla until well blended. Spread this mixture over the warm cake and return to the oven for 4 minutes.
Let the cake cool to room temperature in the pan, then cover with plastic wrap and refrigerate for at least 4 hours or overnight.
At serving time, use a table knife to loosen the cake from the pan. Remove the sides of the pan and place the cake on a platter, leaving it on pan bottom.
To make the praline sauce, in a small heavy saucepan stir together the brown sugar and cornstarch. Stir in the corn syrup and cook over medium heat, stirring constantly, until thick. Remove the pan from the heat and stir in the nuts and 1 teaspoon vanilla. Cool slightly.
Serve the cheesecake, passing the sauce in a bowl with a small ladle. Store any leftovers in the refrigerator.