Smokey Apple Cinnamon Meatloaf
By
Paula Deen
JUMP TO RECIPE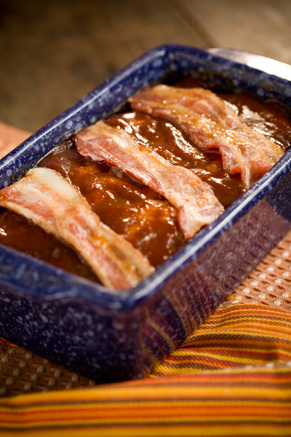 Difficulty: Easy
Prep time: 10 minutes
Cook time: 10 minutes
Servings: 10
Ingredients
1 1/2 lbs lean ground beef
1/2 lb ground pork
1/2 cup finely chopped Vidalia onion
1 large egg
3/4 cup applesauce
1 cup plain breadcrumbs
1 cup divided, plus more for garnish Paula Deen Smokey Apple Cinnamon BBQ Sauce
1 teaspoon salt
1/4 teaspoon black pepper
3 slices uncooked bacon
Directions
Preheat oven to 350 °F.
Coat a 9x5x3-inch loaf pan with non-stick cooking spray and set aside.
In a large bowl, combine the ground beef, ground pork, onion, egg, applesauce, breadcrumbs, 3 tablespoon of Paula Deen Smokey Apple Cinnamon Sauce, salt and pepper. Mix well.
Form the meat loaf mixture into a loaf shape and press into the prepared pan. Brush the top of the meat loaf with half of the remaining Smokey Apple Cinnamon Sauce and top with 3 slices of bacon. Back for 1 1/2 to 2 hours.
In the last 10 minutes of baking, brush the remaining Smokey Apple Cinnamon Sauce over the top of the bacon and return to the oven.
Remove from oven and let cool 10 minutes. Slice and serve alongside your favorite mashed new red potatoes with the skins left on and a little Smokey Apple Cinnamon Sauce drizzled on top!