Slow Cooked Roast with Creamy Herb Sauce
By
Paula Deen
JUMP TO RECIPE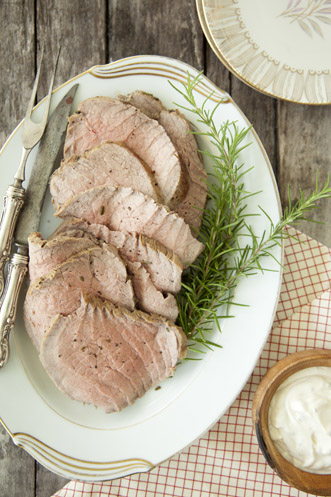 Difficulty: Easy
Prep time: 10 minutes
Cook time: 10 minutes
Servings: 10
Ingredients
1/2 cup mayonnaise
1/2 cup sour cream
2 teaspoons chopped fresh rosemary
1 teaspoon dijon mustard
1 cup beef broth
2 teaspoons dried crushed rosemary
2 teaspoons kosher salt
2 teaspoons ground black pepper
3 tablespoons olive oil
1 (5 lb) or eye of round roast, trimmed boneless top loin roast
Directions
For the creamy herb sauce: In a small bowl, combine the mayonnaise, sour cream, rosemary and mustard and mix well. Cover and chill for up to 3 days.
For the roast: Preheat the oven to 250 °F. Line a roasting pan with aluminum foil. Pour the beef broth into the roasting pan. Place the rack over the broth, and spray with nonstick cooking spray.
In a small bowl, combine the rosemary, salt and pepper. Rub the mixture evenly over the roast.
In a large skillet, heat the olive oil over medium-high heat. Add the roast and cook until browned, 2 to 3 minutes per side. Place the roast on the prepared rack in the roasting pan. Cover tightly with aluminum foil. Bake for 45 minutes to 1 1/2 hours (depending on the shape of the roast), or until a meat thermometer inserted in the center of the roast reads 125 °F.
Remove from the oven and let stand for 20 minutes before slicing. Serve with the creamy herb sauce and garnish with rosemary if desired.