Savannah Tiramisù
By
Paula Deen
JUMP TO RECIPE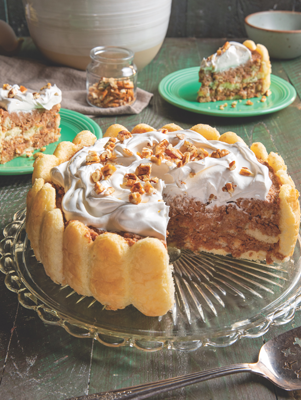 Featured in:
Love & Best Dishes
Difficulty: Easy
Prep time: 20 minutes + chill overnight
Servings: 12 to 16
Ingredients
24 soft macaroons, crumbled
½ cup bourbon or rum
1 cup butter
1 cup plus 3 tablespoons sugar, divided
6 large eggs, separated
½ cup chopped pecans
2 ounces unsweetened chocolate, melted
½ teaspoon vanilla extract
24 double soft ladyfingers, separated
¾ cup heavy whipping cream
chopped toasted pecans, for garnish
Directions
In a medium bowl, place crumbled macaroons; add bourbon or rum, and let stand 30 minutes.
In a large bowl, beat butter and 1 cup sugar at medium speed until creamy, 3 to 4 minutes, stopping to scrape sides of bowl.
In a small bowl, lightly whisk egg yolks; add to butter mixture, and beat at medium speed until combined. Add macaroons and any remaining bourbon, pecans, melted chocolate, and vanilla.
In another medium bowl, using clean beaters, beat egg whites at high speed until stiff peaks form; fold into macaroons mixture.
Spray a 9-inch springform pan with cooking spray; line with separated ladyfingers, rounded side of the ladyfingers out. Line bottom of pan with ladyfinger halves. Alternate layers of macaroons mixture and remaining ladyfingers. Cover and refrigerate overnight.
In another medium bowl, beat cream and remaining 3 tablespoons sugar at high speed until stiff peaks form.
Remove tiramisù from pan, and top with whipped cream and garnish with pecans.