Sausage Pancake Egg Sandwich
By
Paula Deen
JUMP TO RECIPE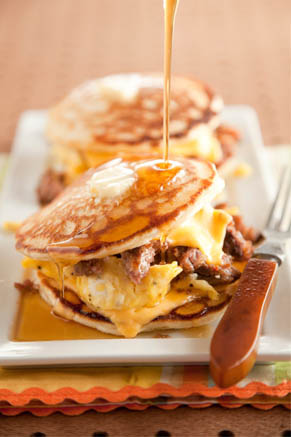 Difficulty: Medium
Prep time: 20 minutes
Cook time: 20 minutes
Servings: 20
Ingredients
2 1/2 cups self rising flour
pinch salt
2 cups milk
10 divided eggs
1/4 cup plus oil for skillet vegetable oil
Paula Deen's House Seasoning
2 tablespoons plus more for skillet butter
4 crumbled cooked sausage patties
slices for assembly American cheese
for assembly maple syrup
Directions
Heat a nonstick griddle to medium heat while you prepare the pancake batter. Combine flour and salt. Mix milk, 2 eggs, oil together and add to flour mixture.
Butter your skillet and then add 1/4 cup of oil to the skillet, which keeps butter from burning. Ladle about 1/4 cup of the batter, for each pancake, onto the skillet. The bottoms of the pancakes should brown in roughly 2 to 4 minutes. Flip to finish cooking the other side. Cook until lightly golden brown.
Reserve pancakes in a preheated 200 °F oven until ready to serve.
For the scrambled eggs:
Preheat a large nonstick skillet over medium heat for 1 minute. Crack 8 eggs into a large mixing bowl and whisk them until the whites and the yolks are combined. Season with Paula's House Seasoning. Add butter to the skillet and allow melting. Add the eggs and reduce heat to medium-low. Add sausage. Stir frequently until soft small curds have developed. The more you stir the more the creamier the eggs will be. Remove from heat.
For assembly:
Place slice of American cheese on top of pancake, top with scrambled eggs. Top scrambled eggs with another slice of cheese and place another pancake on top. Add a dab of butter and smother with maple syrup.