Sausage Balls
By
Paula Deen
JUMP TO RECIPE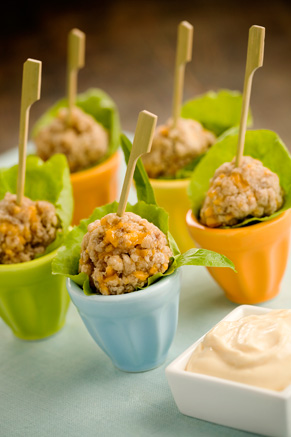 Featured in:
The Lady and Sons Savannah Country Cookbook
Difficulty: Easy
Prep time: 15 minutes
Cook time: 15 minutes
Servings: 15
Ingredients
4 cups grated sharp cheddar cheese
3 cups baking mix
1 (1 lb) package ground sausage
1/8 tablespoon pepper
1 tablespoon mustard
1 cup mayonnaise
Directions
Preheat oven to 375 °F. Spray a baking sheet with vegetable oil cooking spray.
Combine all ingredients in a large glass bowl. Mix well with your fingers. The mixture will be very crumbly.
Form into 1 inch balls, squeezing the mixture so it holds together, then rolling it between the palms of your hands to form balls.
Place the balls on the baking sheet. Bake for 18-20 minutes until golden brown. To prevent sticking, move the balls with a spatula halfway through cooking.
To make the dip, combine mustard and mayonnaise. Serve with sausage balls.