Roasted Herbed Potatoes
By
Paula Deen
JUMP TO RECIPE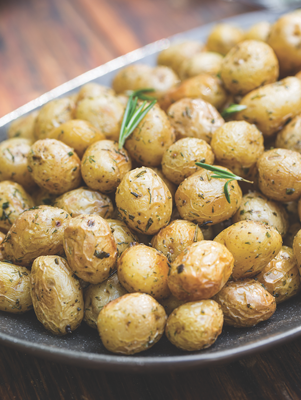 Featured in:
At the Southern Table
Get your copy of At the Southern Table with Paula Deen here.
Difficulty: Easy
Prep time: 10 minutes
Cook time: 30 minutes
Servings: 10 to 12
Ingredients
6 pounds baby Yukon gold potatoes
3 tablespoons extra-virgin olive oil
2 tablespoons minced fresh rosemary
2 tablespoons minced fresh chives
2 tablespoons minced garlic
1 tablespoon Kosher salt
1/2 teaspoon ground black pepper
Garnish: fresh rosemary
Directions
Preheat oven to 425°. Line 2 large rimmed baking sheets with foil.
Divide potatoes, oil, rosemary, chives, garlic, salt, and pepper between prepared pans; toss together until well combined. Spread in an even layer on pans.
Bake until potatoes are tender and lightly browned, about 30 minutes. Garnish with rosemary, if desired.