Skillet Roasted Apple Stuffed Chicken and Herbed Carrots
By
Deen Brothers
JUMP TO RECIPE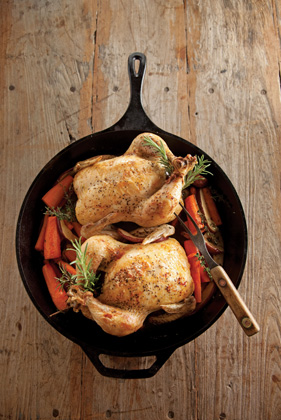 Difficulty: Easy
Prep time: 20 minutes
Cook time: 1 hour
Servings: 4 servings
Ingredients
1 4-5 lb chicken
3 tbs butter
Kosher salt
Pepper
1 garlic head
3 Red Delicious apples
2 sprigs of rosemary
4 carrots
2 sprigs of thyme
Directions
Place chicken in a large cast iron skillet. Truss legs together. Rub entire outside of chicken with butter. Liberally sprinkle with salt and pepper (on the outside of the bird and the cavity). Stuff cavity with garlic, apple halves and rosemary.
Place in oven.
Halfway through the cooking time, add the carrots, apples and thyme and continue cooking an additional 30 minutes.
Allow to rest 10-15 minutes before serving.
Serve warm with Apple Gravy.