Roasted Carrot and Tomato Soup
By
Paula Deen
JUMP TO RECIPE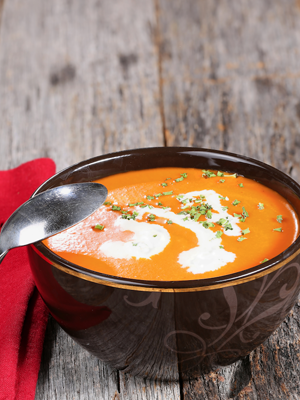 Difficulty: Easy
Prep time: 20 minutes
Cook time: 70 minutes
Servings: 12
Ingredients
2 lbs plum tomatoes, halved lengthwise
2 large carrots, peeled and cut into chunks
1/2 yellow onion, cut into chunks
4 cloves garlic, unpeeled
2 tablespoon olive oil
1/4 teaspoon red pepper flakes
4 cups low sodium chicken broth, divided
kosher salt
ground black pepper
reduced-fat Greek yogurt, optional
Directions
Heat oven to 375 °F.
Arrange tomatoes, carrots, onion and garlic on a heavy duty sheet tray, drizzle with oil, and season with salt, pepper and red pepper flakes. Roast for 50-55 minutes, flipping occasionally, until tender and browned in spots.
Add the chicken broth to a large saucepan and bring up to a simmer (reserving 1/3 cup). Remove sheet tray from oven, add tomatoes, the garlic slipped out of its skin, carrots, and onions into saucepan, and set the sheet tray over two burners on medium high heat.
Add the reserved 1/3 cup chicken broth to the bottom of the sheet pan and scrap up any browned spots with the back of a wooden spoon. Add the liquid to the saucepan along with a bay leaf and simmer for 10 minutes so the flavors can marry. Remove bay leaf and pure until smooth using an immersion blender. Serve with a dollop of Greek yogurt, if desired.