Quick Lemon and Basil Linguine
By
Jamie Deen
JUMP TO RECIPE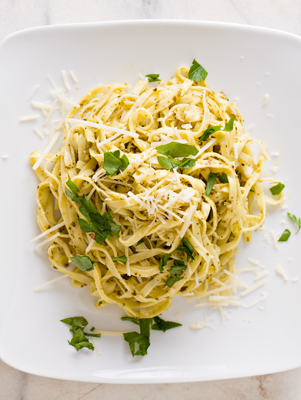 Featured in:
Jamie Deen's Good Food
Difficulty: Easy
Prep time: 5 minutes
Cook time: 20 minutes
Servings: 4 to 6
Ingredients
1 pound linguine
¼ cup extra-virgin olive oil
2 cloves garlic, thinly sliced
¼ cup heavy cream
juice from 1 large lemon (about ¼ cup)
Kosher salt
freshly ground black pepper
½ cup freshly grated Parmesan cheese, plus more for serving
2 teaspoons lemon zest
½ cup thinly sliced fresh basil, plus more for serving
Directions
In a large pot of boiling salted water, cook the pasta until al dente. Reserve ½ cup of the pasta water, then drain your pasta in a colander.
Heat the oil in the same pot you cooked your pasta in. Once it's hot, add the garlic and cook, stirring, until the edges just begin to turn golden brown, about 2 minutes. Stir in the cream and lemon juice, and season with a pinch of salt and pepper. Simmer for 2 minutes, then toss in the Parmesan, lemon zest, and finally, the cooked pasta.
Bring the heat to medium and, with tongs, thoroughly toss the pasta through the sauce while drizzling in the reserved ½ cup pasta water, just to loosen up the sauce a bit. Season with freshly ground black pepper and turn off the heat. Toss the pasta with the basil right before serving. Serve in bowls, sprinkled with some extra cheese and torn basil.
Cooking Tip: I like to pick my battles when it comes to getting my kids to eat. While this recipe calls for linguine, if pasta "tunnels" or "wheels" float your kids' boat, then by all means, change it up.