Lattice-Top Blackberry Blackbird Pie
By
Paula Deen
JUMP TO RECIPE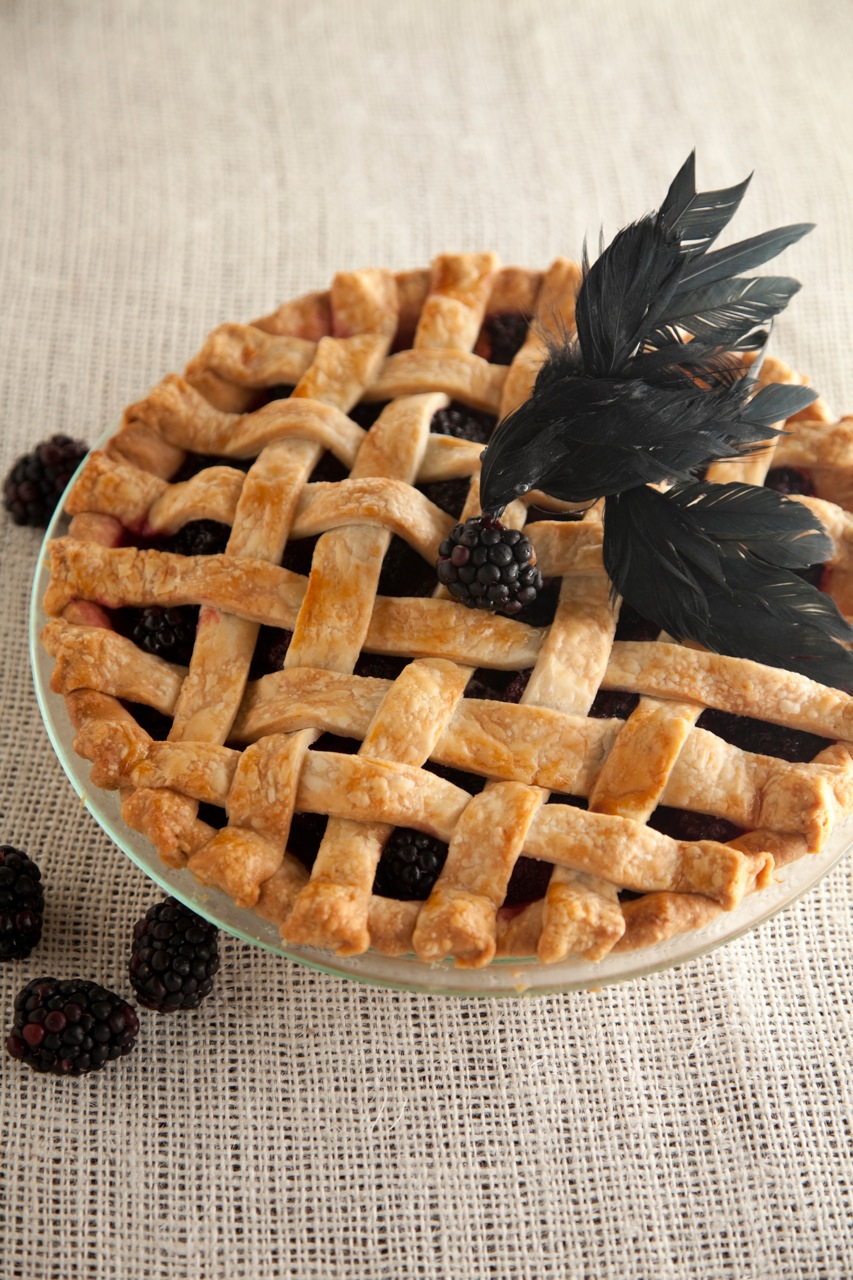 Difficulty: Medium
Prep time: 20 minutes
Cook time: 20 minutes
Servings: 20
Ingredients
1 (2 crusts) homemade or store-bought pre-made pie dough
6 cups (1 3/4 lb) blackberries
1 cup granulated sugar
1/4 cup cornstarch
2 tablespoons water
1 juiced and zested lemon
1 tablespoon quick cooking tapioca
2 tablespoons diced butter
1 lightly beaten with 1 tablespoon water for egg wash egg
1 for decoration (optional) black crow
Directions
Preheat oven to 400º.
In a large mixing bowl, toss together, blackberries, sugar, cornstarch, lemon zest, lemon juice, water and tapioca. Let stand, tossing occasionally, 20 minutes. Roll out 1 piece of dough into a 14-inch round and fit into a 9-inch pie plate. Trim edge, leaving a 1/2-inch overhang. Refrigerate while rolling out second piece of dough.
Roll out remaining piece of dough into a roughly 16- by 11-inch rectangle. Cut crosswise into 11 (1 1/4-inch-wide) strips with a knife.
Spoon blackberry mixture into pie shell. Dot top with butter. Arrange strips in a tight lattice pattern on top of filling and trim strips close to edge of pan. Roll up and crimp edge. Brush top and edge with egg wash.
Place pie on a baking sheet and bake until filling is bubbling. (approximately 45 minutes to 1 hour). If crust is browning too quickly, cover with foil and continue baking. Allow to cool 20 minutes. Place black crow on top of pie before serving.