Pumpkin Scones
By
Paula Deen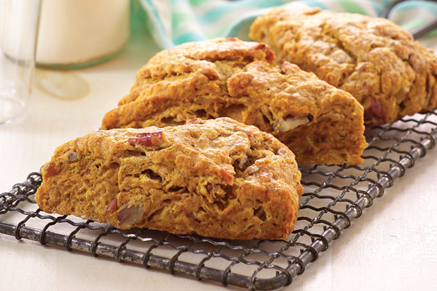 Prep time:

20 minutes

Cook time: 20 minutes
Servings: 8
Ingredients
2 cups all-purpose flour, plus more for dusting
⅓ cup packed dark brown sugar
2 teaspoons pumpkin pie spice
1 teaspoon baking powder
½ teaspoon baking soda
½ teaspoon salt
6 tablespoons (¾ stick) cold unsalted butter, cut into small bits
⅓ cup buttermilk, plus more as needed
⅔ cup canned unsweetened pumpkin
2 teaspoons pure vanilla extract
⅓ cup chopped toasted pecans
2 teaspoons heavy cream
Directions
Preheat the oven to 400 °F. Line a large rimmed baking sheet with parchment paper.
In a large bowl, whisk together the flour, brown sugar, pumpkin pie spice, baking powder, baking soda, and salt. Cut in the butter with a fork or your hands until the mixture resembles coarse meal.
In a medium bowl, whisk together the buttermilk, pumpkin, and vanilla. Stir the buttermilk mixture into the flour mixture. When you can't stir anymore, gently knead the mixture together with your hands until it forms a dough. If it seems too dry, add some more buttermilk, 1 tablespoon at a time, until it is moist enough to work with. The dough should be moist, but not sticky. Knead in the pecans.
Turn the dough out onto a lightly floured surface. Pat into a ½-inch-thick circle. Cut the dough into 8 equal wedges. Place the wedges on the prepared baking sheet. Brush the tops lightly with the cream. Bake until golden and firm, about 20 minutes. Cool the scones for 10 minutes before serving