Pumpkin Rum Pie
By
Johnnie Gabriel
JUMP TO RECIPE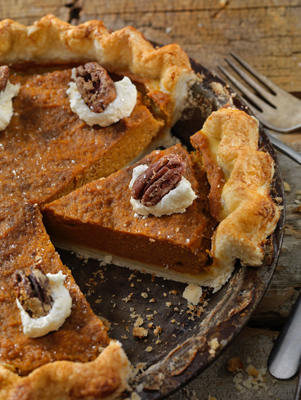 Difficulty: Easy
Prep time: 15 minutes
Cook time: 15 minutes
Servings: 15
Ingredients
1 (9 inch) pre-made pie shell
1 (15 oz) can unsweetened pumpkin puree
3 large at room temperature eggs
1 cup firmly packed light brown sugar
4 tablespoons melted and cooled unsalted butter
2 1/2 cups divided heavy cream
1/3 cup sour cream
1 1/2 teaspoons ground cinnamon
1 1/2 teaspoons ground ginger
pinch ground cloves
pinch ground nutmeg
pinch salt
2 tablespoons dark rum
2 teaspoons vanilla extract
1/4 cup confectioner's sugar
1/4 cup firmly packed dark brown sugar
1/2 cup chopped pecans
Directions
Preheat the oven to 375º.
Partially bake the pie shell, according to the package directions.
In the large bowl of an electric mixer, whisk the pumpkin puree, eggs, light brown sugar, melted butter, 1 1/2 cups of the heavy cream, sour cream, cinnamon, ginger, cloves, nutmeg, salt, dark rum and vanilla. Pour into the shell. Bake for 10 minutes, and then reduce the oven temperature to 300º. Continue baking for 35 to 45 minutes. Cool to room temperature and refrigerate until ready to serve.
With the whisk attachment of an electric mixer, whip the remaining cup of heavy cream on high speed until the cream starts to froth. Gradually add the confectioner's sugar and whip on high until the cream stands in peaks. Either spoon or pipe the whipped cream around the edges of the pie and garnish with Praline Pecans.
Praline Pecans:
In a small skillet melt the butter and dark brown sugar over medium heat. Add the pecans, stirring until bubbly; about 5 minutes. Remove from the heat and pour onto aluminum foil. When the pecans are cool, crumble into small pieces and sprinkle the topping on top of the whipped cream.