Lighter Pumpkin Roll Cake
By
Deen Brothers
JUMP TO RECIPE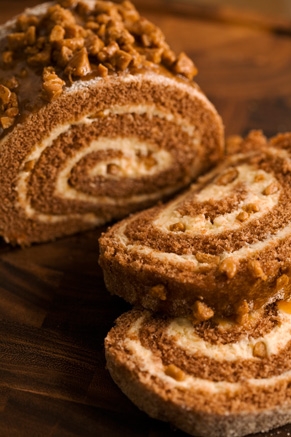 Difficulty: Medium
Prep time: 20 minutes
Cook time: 20 minutes
Servings: 20
Ingredients
3 tablespoons confectioner's sugar
1/2 cup all purpose flour
2 teaspoons ground cinnamon
1 1/4 teaspoons ground ginger
1/2 teaspoon ground allspice
1/4 teaspoon salt
6 at room temperature egg whites
1/2 cup granulated sugar
3 egg yolks
1 teaspoon vanilla extract
2/3 cup not pumpkin pie mix pure canned pumpkin
1 1/2 cups thawed fat free frozen nondairy whipped topping
1/3 cup english toffee bits
1 tablespoon dark rum
Directions
Preheat the oven to 350 °F. Line a 10 1/2 x 15 1/2 inch jelly-roll pan with wax paper and spray with cooking spray. Dust a clean kitchen towel with the confectioners' sugar, and set aside.
Combine the flour, cinnamon, ginger, allspice, and salt in a medium bowl.
With an electric mixer on high speed, beat the egg whites in a large bowl until soft peaks form. Add 1/4 cup of the granulated sugar, 1 tablespoon at a time, beating until stiff, glossy peaks form. Set aside. In a medium bowl, with the mixer on high speed (no need to clean the beaters), beat the egg yolks and remaining 1/2 cup sugar until pale yellow and thickened, about 4 minutes. Add the vanilla, beating until a ribbon forms when the beaters are lifted. Reduce the speed to low. Beat in the pumpkin until blended. With a rubber spatula, add the flour mixture until blended. Gently fold the beaten whites into the egg yolk mixture just until no streaks of white remain.
Pour the batter into the prepared pan, spreading evenly. Bake until the cake springs back when lightly pressed in the center, about 15 minutes. Run a thin knife around the cake to loosen it from the pan; invert onto the sugar-dusted towel; carefully peel off the wax paper. While the cake is still warm and starting with a short side, roll up the cake with the towel. Place, seam side down, on a rack and let cool completely.
Meanwhile, to make the filling, combine the whipped topping, toffee pieces, and rum in a medium bowl. Unroll the cake and remove the towel. With a narrow metal spatula, spread the filling over the cake. Re-roll the cake; place, seam side down, on a serving plate. Dust with confectioners'€™ sugar and cut into 8 slices.