Pumpkin Roll Cake
By
Paula Deen
JUMP TO RECIPE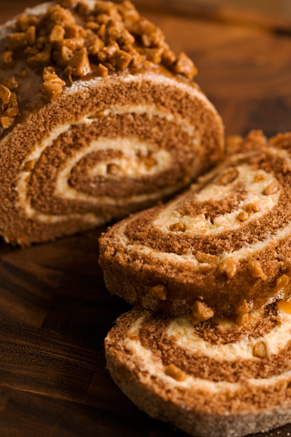 Difficulty: Medium
Prep time: 15 minutes
Cook time: 15 minutes
Servings: 15
Ingredients
3/4 cup cake flour
1 1/2 teaspoons ground cinnamon
1 1/4 teaspoons ground ginger
3/4 teaspoon ground allspice
6 large separated eggs
1/3 cup granulated sugar
1/3 cup packed brown sugar
2/3 cup packed canned pumpkin
1/8 teaspoon salt
1 teaspoon unflavored gelatin
2 tablespoons dark rum
1 cup chilled heavy whipping cream
3 tablespoons plus more for garnish powdered sugar
6 tablespoons plus 1/2 cup for garnish toffee bits
1 1/2 cups warmed, for garnish caramel sauce
Directions
For the cake: Preheat the oven to 375 °F.
Line a 15 by 10 by 1-inch baking sheet with parchment paper. Spray the parchment with nonstick cooking spray.
Sift the flour, cinnamon, ginger and allspice into a small bowl. In a separate bowl, beat the egg yolks, granulated sugar and brown sugar until very thick. Add the pumpkin to the egg mixture and combine at a low speed until incorporated. Add the dry ingredients and beat at a low speed until mixed. In a separate bowl, beat the egg whites and salt until stiff but not dry. Fold into the cake batter, stirring with a spatula, until most of the white streaks are gone.
Spread the batter onto a baking sheet and smooth out. Transfer baking sheet to the oven and bake until a tester comes out clean, about 15 to 18 minutes. While the cake is hot, dust generously with powdered sugar. Loosen the edges and turn the cake out onto a kitchen towel. Fold the towel over the edge of the cake and roll up. Cool completely, edge down, for 1 hour in the refrigerator.
For the filling: Soften the gelatin in the rum. Stir over low heat until the gelatin dissolves. Cool. Beat the chilled whipping cream and powdered sugar in a large bowl until peaks form. Fold in the gelatin and 6 tablespoons English toffee pieces.
To assemble, unroll the cake and sprinkle with 4 tablespoons of English toffee pieces. Spread the filling over the toffee. Start at 1 long side of the cake roll and, using the towel as an aid, roll up the cake to encase the filling. Place the cake, seam-side down, on a platter.
Trim the ends of the cake at a slight diagonal. Dust the cake with powdered sugar. Spoon some warm caramel sauce and the remaining toffee chips over the top of the cake. To serve, use a serrated knife to cut the cake crosswise into 1-inch thick slices. Drizzle more sauce on each slice and serve.