Pulled Pork Nachos
By
Jamie Deen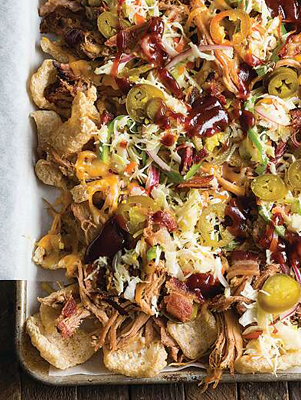 Prep time:

10 minutes

Cook time: 10 minutes
Servings: 6 to 8
Ingredients
Pulled Pork Nachos
2 (3.25-ounce) bags pork rinds
1 pound pulled pork
2 cups shredded Colby-Jack cheese
½ cup sliced pickled jalapeños, drained
1 cup Sweet and Sour Coleslaw (recipe follows)
⅔ cup barbecue sauce
Sweet and Sour Coleslaw
1 (10-ounce) bag angel hair coleslaw mix
½ cup thinly sliced green bell pepper
½ cup sliced red onion
½ cup distilled white vinegar
⅓ cup carrot
3 tablespoons sugar
2 tablespoons vegetable oil
½ teaspoon Kosher salt
¼ teaspoon ground black pepper
Directions
Pulled Pork Nachos
Preheat oven to 375˚F. Line a rimmed baking sheet with parchment paper.
On a prepared pan, arrange pork rinds in a single layer. Top with pork and cheese.
Bake until cheese is melted, about 10 minutes. Top with jalapeño, Sweet and Sour Coleslaw, and barbecue sauce. Serve immediately.
Sweet and Sour Coleslaw
In a large bowl, toss together all ingredients. Cover and refrigerate for at least 1 hour before serving or up to 2 days.