Pink Potato Salad
By
Paula Deen
JUMP TO RECIPE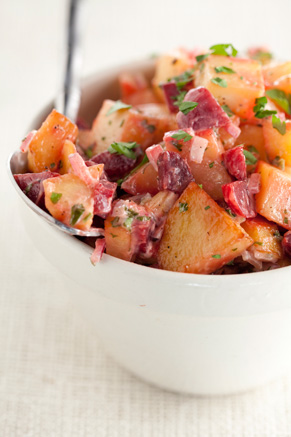 Difficulty: Easy
Prep time: 10 minutes
Cook time: 10 minutes
Servings: 10
Ingredients
2 lbs peeld and cut into 1/2-inch cubes Yukon Gold potatoes
1/2 cup mayonnaise
1 teaspoon dijon mustard
1 tablespoon lemon juice
1 tablespoon chopped fresh parsley
1 (15 oz) can drained and diced sliced beets
1 small finely diced red onion
for frying peanut oil
salt and freshly ground black pepper
Directions
Preheat oil to 375 °F.
Fry potatoes in batches for 5 minutes or until fork tender and golden. Remove with a slotted spoon or spider and place on a paper towel lined sheet tray.
Place the warm potatoes in a large bowl and season with salt and pepper. Mix mayonnaise, Dijon, lemon juice and parsley together in a small bowl. Fold in beets and red onion. Pour dressing over the potatoes and toss until coated.