Petit Fours
By
Paula Deen
JUMP TO RECIPE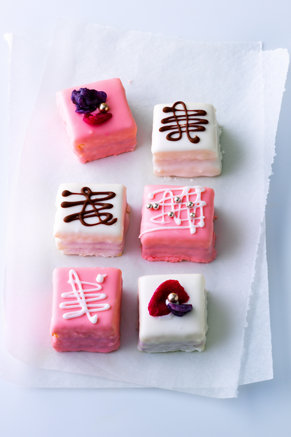 Difficulty: Easy
Prep time: 20 minutes
Cook time: 20 minutes
Servings: 20
Ingredients
1 loaf top crust removed, cut into 1 1/2 inch cubes pound cake
1 teaspoon unflavored gelatin
2/3 cup cold water
1 egg white
1 tablespoon light corn syrup
2 boxes about 1 lb, sifted confectioner's sugar
3 different colors of food coloring
6 skewers
for garnish and design edible gold
Directions
Arrange the pound cake cubes in a single layer on a baking sheet. Freeze until firm, 4 hours or overnight.
In the top of a double boiler, dissolve the gelatin in 2/3 cups cold water. Add egg white and corn syrup. Whisk. Add confectioner's sugar and whisk until well blended and not too thick. When mixture reaches 110 °F. (warm to the touch) divide the icing among several bowls and add your preferred food coloring to each bowl. Mix well.
Line baking sheet with waxed paper. With 2 skewers for each color, dunk cake cubes into colored icing and cover completely. Place on waxed paper to dry. Do this for remaining cubes. When completely dried, place a drop of food coloring onto each cube and sprinkle with edible gold for design.