Game Time Chili Dogs
By
Deen Brothers
JUMP TO RECIPE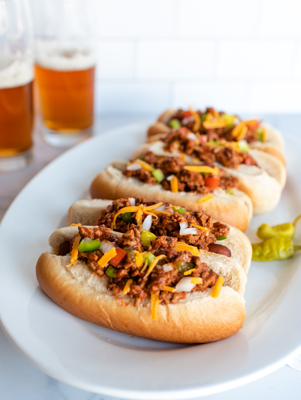 Difficulty: Easy
Prep time: 15 min
Cook time: 1 hour 10 min
Servings: 8
Ingredients
1 tablespoon olive oil
3 cloves garlic
2 stalks celery
1 to 2 bell peppers
1 jalapeno
1 medium onion
2 tablespoons chili powder
1 teaspoon ground cumin
1/4 teaspoon salt
Two 14 1/2-ounce cans petite cut diced tomatoes
One 15 1/2-ounce can red kidney beans
One 15-ounce can pinto beans
1 pound ground chicken
8 hot dogs
8 whole wheat hot dog buns
1/4 cup shredded Cheddar
1/2 cup chopped scallions
Plain nonfat Greek-style yogurt
Directions
Heat the oil in large nonstick saucepan over medium-high heat. Add the garlic, celery, bell peppers, jalapeno, onions, chili powder, cumin and salt. Cook, stirring occasionally, until the vegetables are tender, about 8 minutes.
Add the tomatoes and beans and bring to a boil. Add the ground chicken. Reduce the heat and simmer, covered, stirring occasionally, until the flavors are blended and the chili begin to thicken, about 1 hour.
Bring a pot of water to a low boil. Add the dogs and cook for 10 minutes. Remove from the heat and place each hot dog in a bun. Top with a generous serving of the chili. Garnish with the cheese and scallions and an optional dollop of Greek yogurt.