Peppermint Pinwheels
By
Paula Deen
JUMP TO RECIPE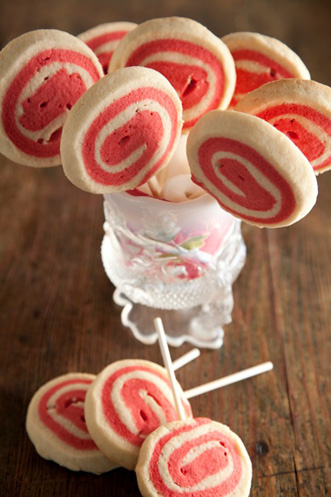 Difficulty: Medium
Prep time: 30 minutes
Cook time: 30 minutes
Servings: 30
Ingredients
2 1/2 cups all purpose flour
1/2 teaspoon salt
1/2 teaspoon baking powder
1 cup softened unsalted butter
1 cup sugar
1 egg
1/2 teaspoon vanilla extract
1 teaspoon peppermint extract
1 teaspoon red food coloring
for rolling out dough powdered sugar
Directions
Special equipment: 24 lollipop sticks
Sift together the flour, salt and baking powder and set aside.
Cream butter and sugar together in another large bowl. Add egg and beat until incorporated. Add the vanilla and peppermint extract. Gradually add the dry mixture, beating until combined. Remove half of the mixture from the bowl. Add food coloring, beating until fully combined. In waxed paper, roll out dough to form a large rectangle, about 1/4-inch thick. Repeat this step with the other half of uncolored dough with no food coloring. Refrigerate for 2 hours.
Tear out 1 sheet of waxed or parchment paper. Sprinkle the surface of the paper with powdered sugar to prevent sticking. Very carefully, slide the red dough on top of the white dough. Trim edges if uneven and patch if necessary. Roll dough into a log, creating a swirl effect. Place the dough back in the refrigerator and let chill for 2 hours.
Preheat oven to 375 °F.
Slice the dough into 1/2-inch slices and place on a parchment lined sheet tray about 1-inch apart. Place lollipop stick about 1-inch through the flat side of the dough. Bake for 8 to 10 minutes. Remove from oven and let cool on a wire rack.