Pecan Snickerdoodles
By
The PD Web Team
JUMP TO RECIPE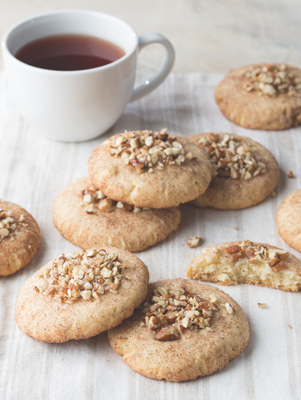 Featured in:
Paula Deen's Southern Baking
Difficulty: Easy
Prep time: 80 minutes
Cook time: 10-12 minutes
Servings: 16
Ingredients
6 tablespoons unsalted butter, softened
6 tablespoons butter-flavored vegetable shortening
1 cup sugar, divided
1 large egg
1 teaspoon vanilla extract
2 cups plus 2 tablespoons all-purpose flour
¾ teaspoon baking powder
¼ teaspoon baking soda
⅛ teaspoon cream of tartar
⅓ cup finely chopped pecans, plus more for sprinkling onto tops
2 teaspoons ground cinnamon
¼ teaspoon ground nutmeg
Directions
In a large bowl, beat butter, shortening, and ¾ cup sugar with a mixer at medium speed until fluffy, 3 to 4 minutes, stopping to scrape sides of bowl. Add egg and vanilla, beating just until combined.
In a medium bowl, whisk together flour, baking powder, baking soda, and cream of tartar. With mixer on low speed, gradually add flour mixture to butter mixture, beating just until combined. Stir in ⅓ cup pecans. Shape dough into a disk, and wrap in plastic wrap. Refrigerate for 1 hour.
Preheat oven to 350˚F. Line 2 baking sheets with parchment paper.
In a small bowl, whisk together cinnamon, nutmeg, and remaining ¼ cup sugar. Scoop or shape dough into 1½-inch balls, and generously roll in sugar mixture. Place on prepared pans about 3 inches apart, and gently flatten dough balls to a little more than ½ inch thick. Sprinkle additional pecans on tops, pressing firmly to adhere.
Bake until bottoms are golden brown, 10 to 12 minutes. Let cool on pans for 2 minutes. Remove from pans, and let cool completely on wire racks. Store in airtight containers for up to 3 days.