Pecan Pie Pockets
By
Paula Deen
JUMP TO RECIPE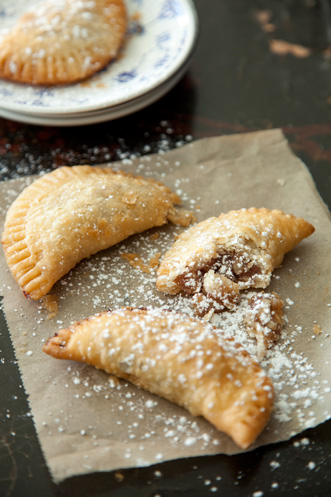 Difficulty: Easy
Ingredients
1 cup sugar
2/3 cup light corn syrup
1/3 cup butter
2 large eggs
1 1/2 cups chopped pecans
1 teaspoon vanilla extract
1/8 teaspoon salt
1 premade pie crust
1 beaten egg yolk
for dusting flour
confectioner's sugar
Directions
In a Dutch oven or deep fryer, heat the oil over medium heat to 350 degrees F.
In a medium saucepan, combine the sugar, corn syrup, butter and eggs. Stir in the pecans, vanilla and salt. Bring to a boil over medium heat, reduce the heat and simmer 10 minutes.
On a lightly floured surface, unroll the pie crust. Cut out rounds using a 4 1/2-inch cutter. Re-roll the dough as needed. Repeat the procedure with the remaining dough. Place 1 pie crust round on a clean, flat surface. Lightly brush the edges of the crust with the beaten egg yolk. Place 1 heaping tablespoon of pecan mixture in the center of the round. Fold the dough over the filling, pressing the edges with a fork to seal. Repeat with the remaining rounds and pecan mixture.
Fry the pies in batches until lightly browned, 1 to 2 minutes per side. Drain on paper towels. Lightly dust with confectioners' sugar, if desired.