Pumpkin Pecan Pie
By
Paula Deen
JUMP TO RECIPE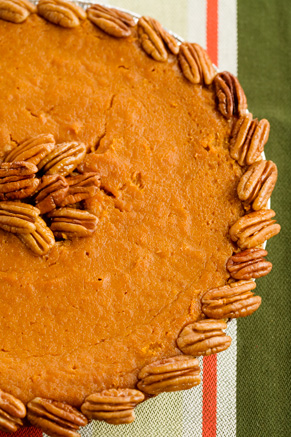 Difficulty: Easy
Prep time: 10 minutes
Cook time: 10 minutes
Servings: 10
Ingredients
1 cup chopped pecans
1 teaspoon vanilla
1 cup canned pumpkin
4 tablespoons melted butter
1/2 cup sugar
1 cup dark corn syrup
3 eggs
1 (9 inch) unbaked pie shell
whipped cream
Directions
Preheat oven to 350 °F.
With a hand beater, beat eggs well. Beat in corn syrup, sugar, butter, pumpkin and vanilla until well-blended. Arrange pecans in bottom of pie shell. Slowly pour egg mixture over them. Bake for 1 hour or until knife inserted 1 inch from edge comes out clean. Let cool completely before serving to allow the filling to set up.
Garnish with whipped cream.