Pecan-Crusted Pork Tenderloin Crostini With Strawberry Balsamic Sauce
By
Paula Deen
JUMP TO RECIPE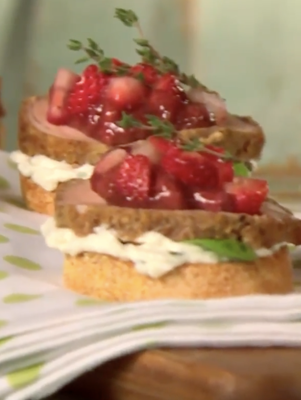 Difficulty: Medium
Prep time: 20 minutes
Cook time: 20 minutes
Servings: 20
Ingredients
1 cup ground pecans
1 cup breadcrumbs
1/4 cup firmly packed brown sugar
1 teaspoon plus more to taste for cheese spread salt
1 teaspoon plus more to taste for cheese spread pepper
1/2 teaspoon ground red pepper flakes
2 large eggs
2 (1 lb) trimmed pork tenderloins
2 cups baby arugula leaves
cut into rounds and toasted French bread
1 (8 oz) package softened cream cheese
1/4 cup mayonnaise
2 tablespoons minced, plus extra for garnish fresh thyme
1 tablespoon minced fresh chives
2 cups (about 1 lb), chopped strawberries
2 tablespoons sugar
2 tablespoons balsamic vinegar
2 tablespoons cornstarch
1/4 cup chicken broth
Directions
Preheat the oven to 375 °F. Line a rimmed baking sheet with heavy duty aluminum foil. Lightly grease foil.
In a shallow dish, combine the pecans, breadcrumbs, brown sugar, salt, pepper and red pepper.
In a separate shallow dish, lightly beat the eggs. Dip the tenderloins in the eggs to coat. Dredge them in the pecan mixture, completely covering the tenderloins. Arrange them on the prepared baking sheet, and bake until an instant-read thermometer inserted into the thickest portion registers 155 °F, about 18 to 20 minutes. Remove the tenderloins from the oven to a cutting board and let rest for 10 minutes. Cut into 1/4-inch thick slices.
Spread Herbed Cream Cheese Spread evenly over bread rounds. Top each with arugula. Put 1 slice of pork tenderloin over the arugula. Spoon about 1 tablespoon of the Balsamic Strawberry Sauce over the pork. Garnish with fresh thyme, if desired, and serve immediately.
Herbed Cream Cheese Spread:
In a small bowl, combine cream cheese, mayonnaise, thyme and chives. Cover and refrigerate until ready to use.
Balsamic Strawberry Sauce:
In a medium saucepan, combine the strawberries, sugar and vinegar. Bring to a boil over medium-high heat. Reduce the heat, and simmer for 5 minutes, stirring frequently.
In a small bowl combine the cornstarch and chicken broth, stirring until smooth. Add it to the strawberry mixture, stirring to combine. Bring to a boil over medium-high heat. Boil for 1 minute, stirring frequently. Remove from heat, and let cool. Cover and refrigerate until ready to use.