Peach Glazed Ham With Peach Corn Relish
By
The Loveless Cafe
JUMP TO RECIPE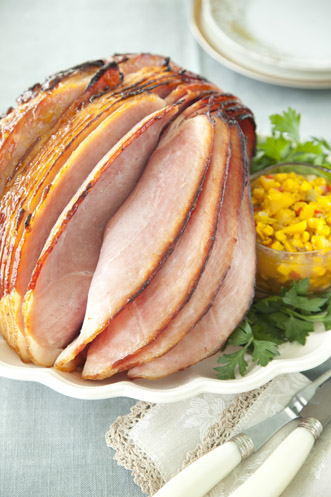 Difficulty: Easy
Prep time: 30 minutes
Cook time: 30 minutes
Servings: 30
Ingredients
1 (6 or 7 lb) fully cooked spiral sliced ham
1/2 cup peach preserves
1 tablespoon (or stone-ground) honey Dijon mustard
3/4 teaspoon Paula Deen Hot Sauce
1/8 teaspoon plus a pinch for the relish ground cloves
3 large ripe pitted and halved, plus 1 peeled, pitted and diced for relish peaches
1/3 cup white vinegar
1/2 cup sugar
1/4 teaspoon dry mustard
1/4 teaspoon mustard seed
1/4 teaspoon turmeric
1 cup whole kernel corn
1/4 cup diced onion
2 tablespoons diced red bell pepper
2 tablespoons diced green bell pepper
1/3 cup water
Directions
Preheat the oven to 325 °F.
Score fat side of ham in a diamond design. Put the ham, fat side up, on a rack in a roasting pan. Insert a meat thermometer, making sure it does not touch the fat or the bone. Bake uncovered until the meat thermometer registers 135 °F, about 1 1/2 hours.
Combine the peach preserves, mustard, hot sauce and 1/8 teaspoon ground cloves in a small bowl, to make a glaze. Whisk until smooth. Remove the ham from oven and brush with the glaze. Bake until the meat thermometer registers 140 °F, about 20 minutes.
Arrange the ham on a platter and surround it with the peach halves. Spoon the relish into the peach halves, and serve.
Note: This recipe was provided by professional chefs and has been scaled down from a bulk recipe provided by a restaurant.
Loveless Cafe Corn Relish:
Combine the vinegar, sugar, mustard, mustard seed and turmeric in a small saucepan and bring to a boil over medium heat. Add the corn, onion and bell peppers; cook for 4 minutes. Add a pinch of cloves and stir to combine. Serve hot or cold.
Yield: 1 1/4 cups
Peach Corn Relish:
In a small saute pan, cook 1 diced peach with water over medium heat until tender. Add 1 cup Loveless Cafe Corn Relish and a pinch of ground cloves and cook for 3 to 5 minutes. Serve the relish hot or cold.
Yield: 1 1/2 cups