Paula's Thin & Crispy Chocolate Chip Cookies
By
Paula Deen
JUMP TO RECIPE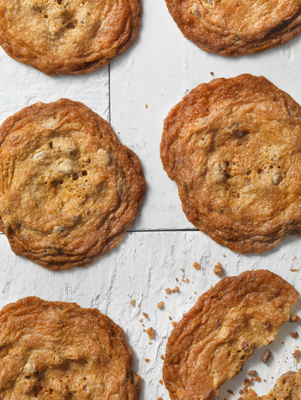 Difficulty: Easy
Prep time: 10 minutes
Cook time: 12-15 minutes
Servings: 12
Ingredients
2 cups all-purpose flour
½ teaspoon baking soda
1 teaspoon salt
2 ½ sticks salted butter, at room temp
1 cup brown sugar, packed
¾ cup white sugar
1 egg
1 tablespoon vanilla
3 tablespoons water
1 cup milk chocolate chips
½ cup white chocolate chips
2 cups chopped pecans
Directions
Preheat oven to 350.
Mix together flour, soda and salt using a wire whisk. Set aside.
In a large electric mixing bowl, cream butter and sugars together until creamy. Add egg, water, and vanilla. Beat until combined. Slowly add flour mixture to creamed ingredients. Mix until combined.
Stir in chocolate and nuts.
Using a regular sized ice cream scoop (approximately 2-2 ¼ oz), fill a level scoop onto lightly greased cookie sheet, putting 9 cookies per sheet. Spray a piece of wax or parchment paper with a non-stick cooking spray and lightly press down each cookie. This will make for a thinner cookie. Bake for 12 to 15 minutes or until desired color.
In this recipe, I use more nuts than chips because that's the way my family likes them. So adapt the amount to suit your taste. I also mix up the nuts, using pecans, walnuts, and macadamias.