Paula's Fried Green Tomato & Egg Hollandaise
By
Paula Deen
JUMP TO RECIPE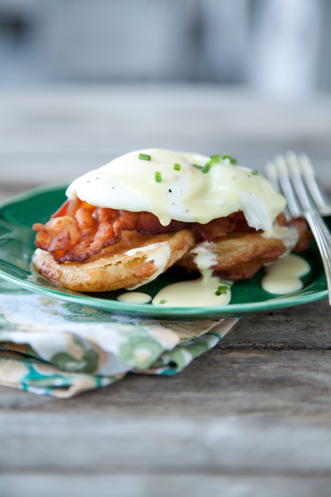 Difficulty: Easy
Prep time: 15 minutes
Cook time: 15 minutes
Servings: 15
Ingredients
3 or 4 large, firm green tomatoes
salt
2 cups or peanut oil, for deep-frying vegetable oil
1 cup buttermilk
2 cups self rising flour
6 slices cut in half and cooked until crisp bacon
6 poached eggs
2 egg yolks
4 tablespoons cream
2 large tablespoons butter
1/2 juiced lemon
1 pinch sugar
optional chicken broth
1 tablespoon vinegar
Directions
Slice the tomatoes 1/4-inch thick. Lay them out in a shallow baking pan and sprinkle with salt. Place the tomato slices in a colander and allow time for the salt to put the water out of the tomatoes (approximately 30 minutes). In a skillet, heat the oil for deep-frying over medium high heat. Dip the tomatoes into buttermilk, then dredge them in flour. Deep fry until golden brown. Keep warm.
Meanwhile, prepare Hollandaise Sauce:
Combine egg yolks, cream, butter, lemon juice, vinegar, salt and sugar in the top of a double boiler, over boiling water. Stir until thick, approximately 3 minutes; set-aside until ready to use. Do not reheat or cover the pot. Thin if needed with a little chicken broth.
To assemble each serving, place two fried tomatoes on a plate. Top with 2 strips of cooked bacon in a criss-cross fashion. Top bacon with a poached egg, spoon on Hollandaise Sauce.