Paula Deen Cuts the Fat: Pan-Seared Pork Loin with Tomato Gravy
By
Paula Deen
JUMP TO RECIPE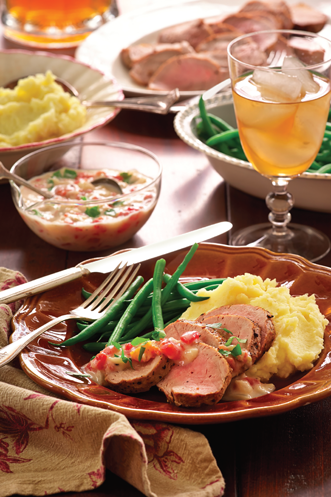 Featured in:
Paula Deen Cuts the Fat
Difficulty: Easy
Ingredients
2 about 1 pound each pork tenderloins
salt and freshly ground black pepper
1 tablespoon olive oil
1 tablespoon unsalted butter
1 small onion finely chopped
1/4 cup all purpose flour
1 1/2 cups milk
1/2 cup low sodium chicken broth
1 10-ounce can or other spicy diced tomatoes Ro-Tel tomatoes
1/4 cup chopped fresh parsley
Directions
Preheat the oven to 400 °F. Line a rimmed baking sheet with aluminum foil. 

Sprinkle the tenderloins all over with salt and pepper. In a large skillet, heat the oil over medium-high heat. Cook the tenderloins until browned all over, 5 to 7 minutes. Remove the tenderloins and place on the prepared baking sheet. Place the baking sheet in the oven and cook the tenderloins until they reach the doneness you like, about 15 minutes. Let them rest for 5 minutes before thickly slicing. 

Meanwhile, add the butter to the skillet you cooked the tenderloins in and melt over medium heat. Add the onion and cook, stirring, until softened, about 5 minutes. Sprinkle the flour over the onion and cook, stirring, for 1 minute. Slowly whisk in the milk, then the chicken broth. Simmer the mixture until thickened, 2 to 3 minutes. Whisk in the tomatoes and season to taste with salt and pepper.
Remove the skillet from the heat and stir in the parsley. Spoon the gravy over the sliced pork and serve it up.