Paula Deen Cuts the Fat Baked Spaghetti
By
Paula Deen
JUMP TO RECIPE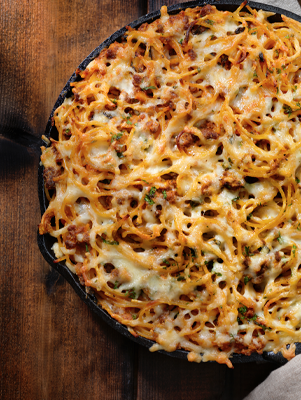 Featured in:
Paula Deen Cuts the Fat
Difficulty: Easy
Prep time: 15 minutes
Cook time: 60 minutes
Servings: 10
Ingredients
2 teaspoons olive oil
1 large onion, chopped
2 garlic cloves, chopped
1 (28-ounce) can no-salt-added diced tomatoes
1 tablespoon tomato paste
¼ cup fresh parsley
¼ cup fresh basil
1 bay leaf
½ teaspoon dried oregano
salt, to taste
freshly ground black pepper, to taste
1 green bell pepper, chopped
1 pound lean ground beef
6 ounces whole-grain or regular angel hair pasta
2 tablespoons grated Parmesan cheese
½ cup shredded cheddar cheese
½ cup shredded mozzarella cheese
Directions
Preheat the oven to 350°F.
In a medium pot, heat 1 teaspoon of the oil over medium heat. Add the onion and cook until soft, 5 to 7 minutes. Add the garlic and cook for 2 minutes. Add the tomatoes, tomato paste, parsley, basil, bay leaf, and oregano. Season to taste with salt and pepper. Bring to a boil over high heat, and then reduce the heat and simmer for 10 minutes.
Meanwhile, in a medium skillet, heat the remaining 1 tea spoon oil over medium heat. Add the bell pepper and cook until soft, 5 to 7 minutes. Crumble the ground beef into the skillet. Cook over medium- high heat until no pink color remains. Season to taste with salt and pepper. Drain the fat from the meat and then add the beef mixture to the tomato sauce. Simmer for 5 to 10 minutes more.
In a large pot of boiling salted water, cook the pasta according to the package directions. Drain well and, in a medium bowl, toss with the Parmesan while still warm.
Cover the bottom of a 13 by 9- inch baking dish with half of the tomato sauce. Add the pasta in an even layer and top with the remaining sauce. Sprinkle with the Cheddar and mozzarella and bake until the cheese is melted and the sauce is bubbling, 30 minutes.