Parmesan Cheese Rounds
By
Paula Deen
JUMP TO RECIPE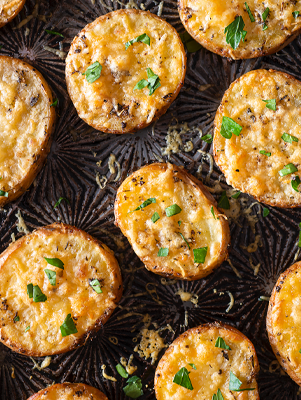 Difficulty: Easy
Prep time: 10 minutes
Cook time: 10 minutes
Servings: 10
Ingredients
1 loaf thin sandwich bread
1 cup mayonnaise
1/2 cup freshly grated Parmesan cheese
for spreading yellow mustard
10 to 12 small very thinly sliced (pearl or boiling onions) white onions
Directions
Preheat the broiler to 425 °F.
With a 2 1/8-inch cookie cutter, cut 2 rounds out of each slice of bread. Arrange the rounds on a baking sheet and place 5 inches from the heat source. Toast the bread on one side until they are golden brown, 3 to 5 minutes.
Using a whisk, mix together the mayonnaise and Parmesan in a small bowl. Remove the bread from the oven and turn the rounds over to the untoasted sides. Spread each with a thin layer of mustard. Put 1 onion slice on top and cover with about 1 teaspoon of the mayonnaise mixture, spreading the mixture across the onion and bread.
Broil until golden, about 1 minute. Never take your eyes off these; the time varies with different ovens. Work in batches of 24 rounds. Serve one batch hot while the next is cooking.