Oven-Baked Dutch Apple Pancakes
By
Paula Deen
JUMP TO RECIPE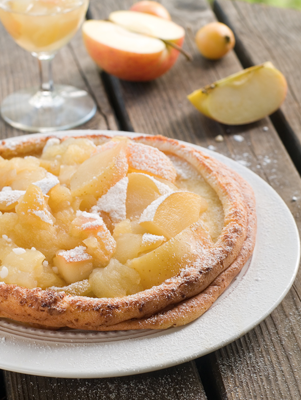 Difficulty: Easy
Prep time: 10 minutes
Cook time: 10 minutes
Servings: 10
Ingredients
1 can apple pie filling
1/2 teaspoon cinnamon
2 eggs
1/2 cup milk
1/2 cup sifted all purpose flour
1 tablespoon sour cream
1/2 teaspoon lemon zest
1 pinch nutmeg
1 pinch salt
2 tablespoons butter
2 tablespoons for dusting confectioner's sugar
Directions
Place a 10″ cast iron skillet inside oven and preheat to 475ºF.
In a small saucepan over low heat, stir together apple pie filling and cinnamon. Heat through.
In a medium mixing bowl, whisk together the eggs, milk, flour, sour cream, lemon zest, nutmeg and salt until frothy. Remove the hot skillet from the oven and reduce the oven temperature to 425ºF. Add butter to the hot skillet and melt. Working quickly, pour batter into the skillet and return to hot oven. Bake until golden and puffed, approximately 12 minutes. Remove from oven and promptly top with warm apple pie mixture. Dust with confectioners sugar.