Orange Apricot Turkey
By
Paula Deen
JUMP TO RECIPE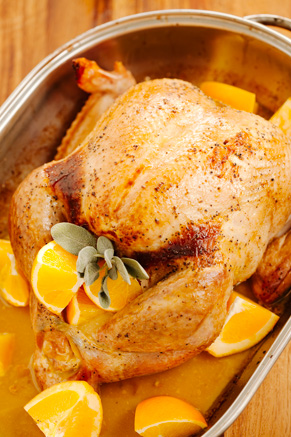 Difficulty: Easy
Prep time: 10 minutes
Cook time: 10 minutes
Servings: 10
Ingredients
2 sticks well chilled butter
1 can reserve liquid apricot halves
1 small can frozen orange juice concentrate
1 (12-14 lbs) turkey
4 stems optional fresh rosemary
Directions
Preheat oven to 400º
Place turkey in large roasting pan (no rack). Slice chilled butter into long slices. Slide one full stick of butter under the skin of each breast. Under the skin of one side place apricot halves. Take the frozen orange juice out of can and place in the cavity of the turkey along with the juice from apricot can and one cup of water. Cook at 400º for 20 minutes.
Reduce heat to 250º and roast until turkey is done. Baste frequently with the orange/apricot/butter drippings.
Notes From the Paula Deen Test Kitchen: Turkey will take longer than instructed on a typical turkey package since you are roasting at a lower heat for the final time. Typically, a 12-14 pound bird will take a total of 4 to 4½ hours to roast with this method. We used Apricot preserves mixed with a little of the pan juices for a final baste on our turkey. Flavor was delightful and a nice twist on the usual turkey preparation.