Lighter Orange-Apricot Turkey
By
Deen Brothers
JUMP TO RECIPE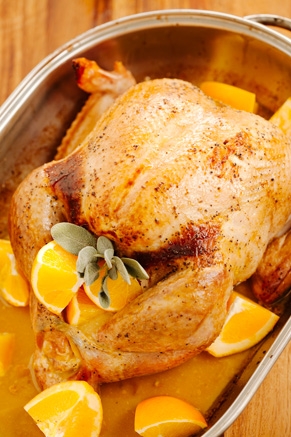 Difficulty: Easy
Prep time: 20 minutes
Cook time: 20 minutes
Servings: 20
Ingredients
1 (12 lb) turkey
2 navel oranges
3/4 cup drained and coarsely chopped, 1/2 cup liquid reserved no-sugar added canned apricots
1 tablespoon peeled and grated fresh ginger
1 tablespoon chopped fresh rosemary
3 teaspoons chopped fresh sage leaves
1 teaspoon olive oil
2 cloves minced garlic
3/4 teaspoon salt
1/4 teaspoon pepper
1 1/2 cups reduced-sodium chicken broth
1/4 cup or dry sherry dry Marsala wine
2 tablespoons unsalted butter
2 tablespoons all purpose flour
Directions
Preheat the oven to 450 °F. Spray a large roasting pan and rack with cooking spray. Remove the neck and giblets from the body and neck cavities of the turkey and discard. Rinse the turkey inside and out and pat dry with paper towels.
Grate the zest from each orange into a small bowl. Add the apricots, ginger, rosemary, 1 teaspoon sage, oil, garlic, 1/2 teaspoon salt and pepper until blended. Cut each orange into quarters and place into the cavity of the turkey. With your fingers, carefully lift the skin from the turkey and spread the apricot mixture evenly under the skin. Tie the turkey legs together with kitchen twine. Place the turkey, skin-side up, on the rack in the pan. Pour 3/4 cup of broth and the reserved 1/2 cup apricot liquid into the bottom of the pan; roast the turkey for 20 minutes. Reduce oven temperature to 350 °F. Cover the turkey loosely with foil to prevent the skin from burning and roast, basting occasionally, until an instant-read thermometer inserted between the leg and the thigh (without touching the bone) registers 165 °F, about 2 hours and 35 minutes. Transfer the turkey to a cutting board; let stand 25 minutes.
Meanwhile, to make the gravy, scrape the drippings from the roasting pan into to a large glass measure. Let stand 5 minutes; then skim off the fat and discard. Stir the remaining 3/4 cup of broth, wine, and the remaining 1/4 teaspoon salt into the skimmed pan drippings until blended. Melt the butter in a medium saucepan over medium heat. Add the flour and cook, stirring, 1 minute. Add the pan drippings mixture into the flour mixture and cook, whisking constantly, until the gravy bubbles and begins to thicken slightly, 3 to 4 minutes. Remove from heat and stir in the remaining 2 teaspoons of sage.
Carve the turkey and serve with the gravy. Remove the skin before eating.