Option Dog
By
Paula Deen
JUMP TO RECIPE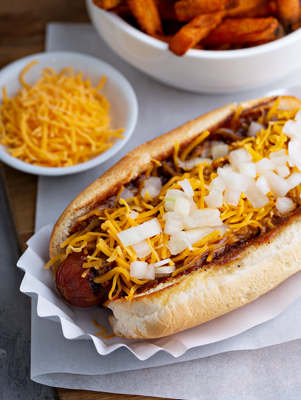 Difficulty: Easy
Prep time: 10 minutes
Cook time: 10 minutes
Servings: 10
Ingredients
8 oz ground skirt steak
4 jumbo hot dogs
3 tablespoons butter
1 tablespoon freshly chopped basil
1 tablespoon freshly chopped cilantro
1 tablespoon freshly chopped sage
4 toasted oversized hot dog buns
4 jumbo separated eggs
1 jar peach preserves
for sprinkling ground chipotle chile pepper
8 strips cooked crisp center-cut thick-sliced bacon
2 oz freshly shredded mild cheddar cheese
2 oz freshly shredded Gruyere cheese
2 oz freshly shredded pepper Jack cheese
Directions
Heat a grill pan to medium-high heat.
Add the ground beef to a large nonstick medium pan. Cook until brown and crumbly, about 8 minutes.
Grill the hot dogs on all sides. Once cooked, remove from the grill and butterfly down the center.
While the beef and hot dogs are cooking, add the butter, basil, cilantro and sage to a hot skillet. Toast the buns on the grill pan with the hot dogs. Spread the melted herb butter on the buns before serving.
Fry the egg whites, one egg at a time, in a separate nonstick skillet. Transfer the egg whites to a plate once cooked and reserve.
To serve, spread some peach preserves on the toasted and buttered bun. Sprinkle to taste with the chipotle pepper. Add 1 egg white to the bottom of each bun and add some of the ground beef down the center. Top with the butterflied hot dog, a slice of bacon and a sprinkling of Cheddar, gruyere and pepper jack.