Old-Fashioned Fudge Pie
By
Paula Deen
JUMP TO RECIPE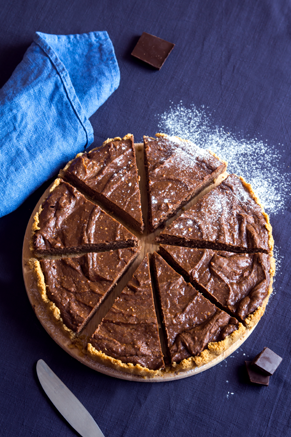 Featured in:
Paula Deen's Kitchen Classics
Difficulty: Easy
Prep time: 5 minutes
Cook time: 35 minutes
Servings: 8
Ingredients
2 (2 oz) squares semisweet chocolate
1/2 cup butter
1 cup sugar
2 beaten eggs
1 (9 inch) unbaked pie crust
1 teaspoon vanilla
Directions
Preheat oven to 375 °F.
Melt the chocolate and butter together in a heavy saucepan over low heat. Remove the pan from the heat and add the sugar, then the eggs; beat well. Pour the filling into the pie crust and bake for 25 minutes or until just set. Serve warm or cold, with ice cream or whipped cream.
Note from Paula: If you like a thicker pie, use 1.5x the filling ingredients, and bake at 375˚F for 40 minutes. It should jiggle a bit.